Dining at Brentwood at Hobart
Delicious chef-prepared meals make the dining experience at Brentwood at Hobart a three-time highlight of every day. We offer something to satisfy everyone by providing quality, fresh ingredients, varied menus, and exceptional service.
Assisted Living Choice Dining Options
Designed to maximize choice and appeal to a wide array of palates, the Choice Dining Options at our assisted living community in Hobart offers an appealing menu, while also taking into account health and nutritional concerns.
Three homemade meals served daily
Restaurant-style dining facilitates easy conversations with new friends for a more enjoyable dining experience
Snacks are always available
A sampling of entrees includes grilled salmon with white beans and spinach, roast pork teriyaki, beef stroganoff and baked herb crusted chicken.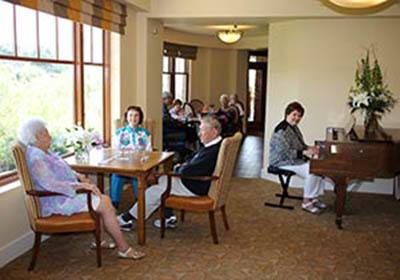 Memory Care Dining Options
Our memory care community in Hobart is designed to give our memory care residents the opportunity to enjoy the dining experience.
Dementia-friendly menus offer familiar meal choices that are easy to manage and appeal to the senses
Dining assistance is individualized to preserve each resident's use of utensils as long as possible
Small, family-style dining rooms are familiar and encourage socialization
For more information about dining options at our memory care and assisted living community in Hobart, call our friendly staff today.